I've got a dirty secret. The highbrow cineaste in me knows that there's something inherently corrupt and creatively bankrupt about all these TV show remakes that have been clogging American cineplexes the past few years. Yet I wrote only
last week
about how I'd rather sit through a
Dukes of Hazzard/Deuce Bigalow, European Gigolo
double feature in a drive-in during a severe electrical storm rather than watch or even think one more thought about the latest movie by Henry Jaglom coming soon to a Beverly Hills art house screen (rented for five months by the director in order to make it look like people are actually going to see his movie) near you. My best friend and frequent reader Blaaagh was kind enough to
point out
that the described double feature, under those circumstances, sounded like it could actually be a lot of fun, and mighty similar to ones we'd endured/enjoyed in our college days. Of course he was right. And I also regretted making it sound as though I anticipated that either the artless TV remake or the pointless Rob Schneider sequel would be anywhere near as excruciating to experience as the new Jaglom film surely would be.
But none of that is my dirty secret. Saturday night I snuck out to the pictures and, sure enough, before the big-budget summer spectacular I paid full price to see (more on
that
experience in a couple of posts) there was attached a trailer for
The Dukes of Hazzard
. I sat stone-faced as the preview began, and then something curious began to happen. To paraphrase Piper Laurie's Margaret White, I could smell the corn whiskey on its breath, its brainless humor and spectacular car stunts pawin' me, putting their hands all over me,
and I liked it! I liked it!
Or, more precisely, I liked the trailer—all that hee-hawin' and full-throttle General Lee-jumpin' and all those shots of Jessica Simpson in those
painted-on Daisy Dukes
bending over the chassis of her car and drawlin' on to the sheriff's deputy about there being a leak in her undercarriage or somethin', and I began to fervently and sincerely pray that the movie would be playing at the
99W Drive-in
in Newberg, Oregon when I make my pilgrimage up there later this summer. I don't know what to make of the spell the trailer has cast over my imagination, other than I must be dumber than I ever imagined, but I do know one thing in my heart of hearts-- Hal Needham must be rock-hard with envy over the impending release of
The Dukes of Hazzard
.
I also saw the trailer for
War of the Worlds
, or more precisely, a trailer grafted onto a cheap ad imploring the captive audience patiently awaiting the feature to be sure to "see
War of the Worlds
at a Mann THEE-ter!" I thought I'd misheard it, but then the obviously uneducated announcer said it again: "Be sure to see
War of the Worlds
in a Mann THEE-ter!" Now, where I come from, they're called thee-AY-ters, and by God, I was so all-consumed with my annoyance over this linguistic trampling that I almost stood up and demanded to speak to the manager of the THEE-ter—I mean, thee-AY-ter. But I stayed seated, fuming, and it turned out Providence had guided that decision, for if I had indulged my haughty impulse of superiority, I would have missed the trailer for, yes,
The Dukes of Hazzard
.
One final thought: I'm surprised that no one has mentioned how much the bus kiosk print ads for
War of the Worlds
, from the graphic design of the movie's title to the color scheme of that image of a world in flames being embraced by none-too-friendly-looking tentacles, resembles nothing so much as the cover of a
Dianetics
paperback.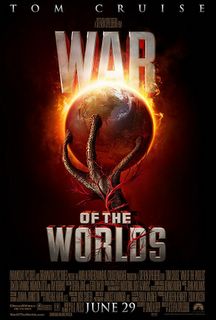 ************************************************************************************
My next post will be a belated Father's Day tribute to my dad and the movies we saw together when I was growing up. I got about three-quarters of the way through it, but I ended up not being able to finish because I was too busy being treated like a king all day by my wife and daughters. The dilemma of whether to type or to receive multiple unexpected, unsolicited kisses from your three favorite women in the world is no dilemma at all. I hope all you fathers had as wonderful a day as I did, and that everyone's dad was near to heart and mind, if not body, today.