When I said everyone loves a pop quiz, I was being kinda sarcastic. But it does seem that most everyone enjoyed
Mr. Hand's Spring 2005 Pop Movie Pop Quiz
, despite the fact that it was not a quiz that lent itself to quick and easy answers. Most everybody who took part found at least half the questions had to really be chewed on, for one reason or another, and the chewing resulted in some very interesting and good-natured responses from the movie-loving readers of
SLIFR
. In fact, I was so delighted with the enthusiastic response to the quiz that, if I can come up with more decent questions, I may try and make this a quarterly bit o' fun. As far as the Spring 2005 edition, I thought it'd be worth rounding up a few of the more amusing/thought-provoking/unexpected answers in each of the categories in an easily digestible format, now that submission of answers seems to have subsided, just in case everyone hasn't had a chance to scroll down through the seemingly endless comments section for this post.
To start with, among those who expressed a preference for one classic movie star over another (I realize I've just revealed the whole thing to sound about as edifying as the Pepsi Challenge…), here's how the preferences ranked:
Humphrey Bogart in a walk over Jimmy Cagney—Bogie notched 10 votes to Cagney's one.
(As soon as I read my own answer, I realized that though I'd picked Bogart on the strength of
In A Lonely Place
alone, I should have taken the opportunity to step up for Cagney based entirely upon
One Two Three
, and had I known the vote was going to be so lopsided, I probably would have done just that. Oh, well…)
Jimmy Stewart edged Cary Grant by a slender margin, 6-5.Katharine Hepburn trounced Carole Lombard, 9-3.
Joan Crawford and Bette Davis emerged from their gothic horror Baby Jane catfight dead even, 5-5.1)THE ONE MOVIE YOU'D DROP EVERYTHING TO SEE AGAIN
What I hoped for from this question was to get a sense of the range of everyone's individual movie obsessions, and I think you could say that the following list makes a pretty good case that regular visitors to this site definitely march to the beat of their very own drum. How else to explain this wildly eclectic list?
Louis Malle's
Murmur of the Heart
Peter Jackson's
Lord of the Rings
trilogy
Carol Reed's
Flap
George Melies'
Les Fromages Automobiles (The Creeping Cheeses)
John Huston's
The Dead
Bernardo Bertolucci's The Conformist
Steven Spielberg's
Jaws
Sergio Leone's
The Good, the Bad and the Ugly
Todd Holland's
The Wizard
Harold Ramis'
Caddyshack
As keen and varied as the responses were, hands down the most interesting answers to question #1 were offered by Blaaagh:
"The one movie you'd drop everything just to see again--
Sicko
, the (bad) satire of
Psycho
which I directed, edited, etc., in high school, along with my friend Bill Helwig. It's a lost film now, perhaps for the best."
And PSaga:
Manneken Pis
.
First of all, I've seen
Sicko
. I know the guy who directed
Sicko
. And,
Sicko
, you're no
Psycho
. But, hey,
Birth of a Nation
is no
Psycho
either. And
Psycho
is no
Birth of a Nation.
I don't know what my point is, exactly, but I will say that I would drop everything to see
Sicko
again myself.
And
Manneken Pis
is the only answer given to this question, and I might venture to say to any other answer in this quiz, with which I had not at least a passing familiarity. That one sent me scrambling to the Internet Movie Database quicker than you can say "Greta van Langhendonck" or "Ludo Hoogmartens." PSaga, please elaborate! And congratulations to all my fellow ignorami who read of it and refrained from admitting, for the sake of a cheap laugh, that the first thing you thought PSaga was referring to was a lost sequel to a bad '80s romantic comedy starring Andrew McCarthy and Kim Catrall, all about the adventures of a young man in love with a chronically incontinent (and all the more sexy for it) department store dummy.
2)THE ONE MOVIE YOU NEVER WANT TO SEE AGAIN UNDER ANY CIRCUMSTANCES
Are our aversions more interesting than our attractions? You make the call:
David Lynch's
Wild at Heart
(Virgil Hilts)
Roman Coppola's
CQ
(Machine Gun McCain)
Michel Gondry's
Eternal Sunshine of the Spotless Mind
(Sharon)
Rob Reiner's
This is Spinal Tap
(Murray)
Peter Berg's
Very Bad Things
(Blaaagh)
Rupert Wainwright's
Blank Check
(look it up!) (Thom McGregor)
Ron Howard's
Ransom
(Dennis)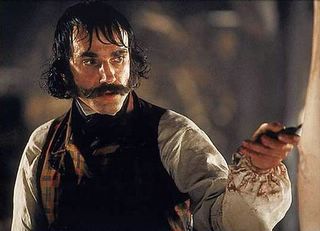 Martin Scorsese's Gangs of New York
(PSaga)
Anything by Steven Spielberg (The Mysterious Adrian Betamax)
Bryan Spicer's
For Richer or Poorer
(Loxjet)
(see
Blank Check
, or as it is known in the U.K.,
Blank Cheque
— gee, thanks, IMDb!)
Robert Iscove's
From Justin to Kelly
(Jonas)
Robert Englund's
976-EVIL
(Jonas)
Rob Reiner's
The Story of Us
(Alison)
Michael Moore's
Fahrenheit 9/11
(Twosctrjns)
Two names jump out at me off this list: Rob Reiner and Steven Spielberg. Again, it's a measure of how varied are the perceptions within this little group that both the movie many might consider Rob Reiner's best work (
This is Spinal Tap
) is included along with one which few would argue is one of the worst (
The Story of Us
) in a stable of putrid Reinerian contributions to the cinematic form. Makes me wonder what a preferential ranking of the entire Reiner
oeuvre
would look like, especially if the rankers were Murray and Alison.
As for
Spielberg
, the Mysterious Adrian Betamax would like to seal up the director's entire filmography in a giant lock box wrapped with chains and drop it into the sea. Okay, but even directors whose work I wish would disappear have made a film or two that I would consider saving— Ron Howard made
Parenthood
, Tony Scott made
Crimson Tide
and, yes, even though it's a film that's arguably more dependent on performance and writing that any particular sensibility or style brought to it by its director, Rob Reiner made
This is Spinal Tap
. So for the Mysterious Adrian Betamax to dismiss the entirety of Spielberg's work out of hand suggests to me that he's got some serious issues with the director that I'd love to hear about, as I can identify with an impatience with or indifference to some of his work-- the first two
Raiders of the Lost Ark
films,
Hook, Jurassic Park, The Terminal
, and the logistical and moral question of whether all those soldiers were worth losing in order to save Private Ryan-- at the same time that I feel all kinds of love for
Duel, Jaws, Close Encounters of the Third Kind, 1941, Empire of the Sun, The Lost World: Jurassic Park
and, with some major reservations,
E.T.-The Extra-terrestrial
and
Schindler's List
. Mysterious A.B., if you have a desire to elaborate…
3)THE MOST TREASURED DVD IN YOUR PERSONAL COLLECTION
The answer on several lists here was
Peter Jackson's Lord of the Rings trilogy
, so it seems that if our little band of cinephiles has any common ground it can be found in Middle Earth by way of New Zealand.
Other interesting titles that popped up included:
Joe Dante and Allan Arkush's
Hollywood Boulevard
(because it seemed like such an unlikely title to feature an audio commentary— thanks, Machine Gun McCain)…
Robert Altman's
Nashville
…
Jim Jarmusch's
Down by Law
(PSaga demanded the Criterion edition, and she got it!)…
The Movies Begin
, an early cinema DVD set from Kino treasured by the Mysterious Adrian Betamax…
Sergio Leone's
The Good, the Bad and the Ugly
(deluxe MGM version with added footage—thanks, Tuco, I mean, Jonas)…
Andy Tennant's
Ever After
(cinematic comfort food for Alison)…
and my favorite answer— Loxjet cites the collected works of the Burt Reynolds-Hal Needham collaboration (
Smokey and the Bandit, Smokey and the Bandit II, Hooper, The Cannonball Run, The Cannonball Run II
and, of course,
Stroker Ace
). Why? "For sentimental reasons."
4)What is the Most Coveted DVD You'd Like to Add to Your Collection?
There's only approximately 240 shopping days left until Christmas, so, Santa, if you would, keep some of these titles in mind, would ya?
* Machine Gun McCain would love the Buster Keaton set from Kino…
* Blaaagh would love to be swept away by
Days of Heaven
…
* It's
SCTV
Volumes 2 and 3 that would make Thom McGregor smile…
* Sharon covets
The Americanization of Emily
...
* PSaga wants to keep Santa on his toes and see if there's room enough in his heart for an eclectic double bill of
Big Deal on Madonna Street
and
The Return of Captain Invincible
* Louis Feuillade's 1915
Les Vampires
would keep the Mysterious Adrian Betamax's mind off of Steven Spielberg…
* Loxjet wants to unwrap the remastered
Gimme Shelter
…
* And Alison thinks "it might be swell to own
The Matrix
"
5) WHAT'S THE BEST NEW YORK CITY MOVIE?
Interesting double feature--
Annie Hall
and
Escape from New York
get the edge in the voting (they were both mentioned twice).
Virgil Hilts also likes
The Warriors
; Thom McGregor will take
Manhattan
; Dennis shouts
Dog Day Afternoon
(and "Attica!"); Machine Gun McCain unearths the early '80s NYC dreamscape of
They All Laughed
; Murray likes his New York City via Wise and Robbins (
West Side Story
) and Zwick (
The Siege
); Loxjet prefers the Joe Buck of Times Square (
Midnight Cowboy
) to the Joe Buck of Fox Sports; and Alison prefers the Travis Bickle of Times Square (
Taxi Driver
), period. But probably the most literal-minded and well-rounded response comes from The Mysterious A.B. who picks Ric Burns' documentary
New York: A Documentary Film.
Is it on DVD, M.A.B.?
6) WHAT'S THE BEST LOS ANGELES MOVIE?
Well, when the first response is
Earthquake
, I guess there's nowhere to go but up, right?
M.A.B. comes up a little more middle-of-the-road with his response here (
L.A. Story
), and Alison says simply that there's nothing good about L.A. Although I think I'm more in Alison's camp when it comes to day-to-day life involving freeways and the buttheads that run wild on them, some of the other responses to the question suggest there may be some good about L.A. after all-- good films, that is, that back up Alison's claim that L.A. is a pretty curdled place after all:
To Live and Die in L.A.
, Sunset Boulevard, L.A. Confidential, The Long Goodbye, Mulholland Dr. and
Chinatown
.
7) BEST MOVIE EVER MADE ABOUT YOUR HOME STATE OR COUNTRY
Again, Virgil Hilts steals "Best Response" honors with by invoking the Sensurround magic of
Earthquake
, along with newly respectable director Taylor Hackford's attempt to make an East L.A.
Godfather
out of the chaos of
Blood In, Blood Out
. Coming up a close second, for sheer irreverence (as subject) and sheer irreverence (as choice) is Loxjet, who hails from Montana and cites the double feature of
Rancho Deluxe
and
Heaven's Gate
as the best of the Big Sky. PSaga checks in with Hoosier love for not
Hoosiers
, but
Breaking Away
("Refund? Refund?!") The Mysterious Adrian Betamax says that he "can't think of any for New Hampshire that weren't crap" (would
Tanner '88
count?) so he went with his home country of England and Alberto Cavalcanti's
Champagne Charlie
, about the British music hall scene. Jonas pines for the TV version of
Fanny and Alexander
, Murray thinks
The Way West
best represents Oregon (and cites some pretty good personal reasons for saying so), while Dennis and Bruce both thought
Sometimes a Great Notion
captured the state (Dennis also threw in
National Lampoon's Animal House
for good measure). But Machine Gun McCain's response-- "There's really only one,
The Bay Boy
, and it's god-awful"—sent to me to IMDb, due to my unfamiliarity with the title, where Paul Emmons sums up the plot thusly:
"A Roman Catholic teenage boy in Nova Scotia during the 1930s faces various growing-up problems: Should he become a priest? What should he do about the murder he witnessed, committed by a local cop and upstanding parishioner? And how far should he go with his girlfriend, who happens to be the murderer's daughter?"
On top of all that, it stars Kiefer Sutherland and Liv Ullmann. Can anyone find another movie that takes place in Nova Scotia to suggest to Machine Gun, please?
9) BEST MOVIE REMAKE
Loxjet asks the question, "Are there any?" I think there was some pretty good evidence in the answers to suggest that, while the remake may more often smack of craven commerciality and bankruptcy of original ideas, there are times when they work out pretty well.
To wit:
Howard Hawks' His Girl Friday
, one of the many remakes of Ben Hecht's
The Front Page
, was cited twice, and Philip Kaufman's
Invasion of the Body Snatchers
, another remake which was not the last word on its original source. Steven Soderbergh's
Ocean's Eleven
is clearly a remake of a movie that few, if any, thought could do anything but improve upon its besotted source material, and probably the same could be said of David Cronenberg's silken spinning of
The Fly
from the sow's ear of the original (I also like PSaga's props for James Wong's remake of
Willard
starring Crispin Glover). Some may not know that
The Ten Commandments
(1956) was Cecil B. DeMille's remake of his own silent-era take on the book of Exodus, or that the recent Denzel Washington thriller
Man on Fire
was also a remake of a 1987
thriller
with the same name. And finally, two remakes mentioned clearly weren't too troubled by the long shadows cast by the originals: John Sturges'
The Magnificent Seven
, a western retelling of Akira Kurosawa's
Seven Samurai
, which was itself Kurosawa's take on some of the grand westerns under whose influence he had fallen, and Gus Van Sant's rather more notorious remake of Alfred Hitchcock's
Psycho
, an entry from the Mysterious Adrian Betamax that may serve to back up Loxjet's point.
10) MOVIE YOU'D MOST LIKE TO SEE REMADE
Where Loxjet wondered in the last category if there even were any good remakes, Alison takes up the call for this question by stating categorically that there is no answer to the question because "remakes are bad." Even if you subscribe to this point of view, wouldn't you like to see Trey Parker and Matt Stone remake
Earthquake
or
For the Love of Benji
? (Virgil Hilts) Or what about the mouth-watering possibilities of a
Love Bug
remake starring Gary Busey and directed by Hal Needham? (Loxjet) Rather less facetiously, Machine Gun McCain wonders about the possibility of John Carpenter actually redoing Howard Hawks'
Only Angels Have Wings
, Thom McGregor thinks Paul Thomas Anderson would refashion
Nashville
in an interesting manner,and Dennis would like to see David R. Ellis take a
Fantastic Voyage
with Clive Owen, Eva Mendes and, yes, the late Donald Pleasance.
But getting back to the Mysterious Adrian Betamax's obsession with the
Gus Van Sant Psycho remake:
"
Psycho
should be remade every 10 years and followed shot for shot each time. I don't care who does it next. van Sant again! Chow Yun-Fat as Norman Bates! Tony Leung Chiu-Wai as Janet Leigh! Eddie Izzard as Martin Balsam!" Someone get M.A.B. some Mrs. Fields cookies, and quick…
11) BEST INTEGRATION OF AN EXISTING PIECE OF MUSIC INTO A MOVIE
"Ride of the Valkyries" (
Apocalypse Now
)
"La Marseillaise" (
Casablanca
)
"Queen Bitch" by David Bowie (
The Life Aquatic with Steve Zissou
)
"Pachelbel Canon in D" (
Ordinary People
—damn you, Blaaagh!)
"In Dreams" by Roy Orbison (
Blue Velvet
)
"Ooh La La" by the Small Faces (
Rushmore
—sorry, PSaga!)
"Jockey Full of Bourbon" by Tom Waits (
Down by Law
)
"California Dreaming" by the Mamas and the Papas (
Chungking Express
)
"If You Don't Love Me, I'll Kill Myself" by Pete Droge (
Dumb and Dumber
)
"Big Poppa" (by the Notorious B.I.G.? Sorry, Alison, you may have to educate me here) (
Daredevil
)
12) MOST UNWELCOME POP SONG TYPICALLY USED IN A MOVIE MONTAGE
The best answers speak for themselves…
"Well, it's not typical, but I hate that
"Raindrops Keep Fallin' on my Head" montage
in
Butch Cassidy and the Sundance Kid
."—Blaaagh
"Well, obviously 'The End,' but number 12 wouldn't be completely answered without mentioning 'How Do I Live Without You' by Trisha Yearwood in
Con-Air
."—Loxjet
"Standing by my utter loathing of Smash Mouth's 'All-star.'"-- PSaga
"I think of
The Sound of Music
as one long, boring movie montage filled with unwelcome pop songs."—Virgil Hilts
"I'd rather not try to recall one."—Alison
13) THE MOVIE THAT MADE YOU WANT TO CHANGE YOUR LIFE, OR THE WORLD
Blaaagh on
Gorillas in the Mist
: "Not because it was a great movie, but because it spurred me to read the book Farley Mowat wrote about Dian Fossey,
Woman in the Mists
, which incorporates her journal entries. At the time I was working at a job I hated (sales), not acting, had just moved to a dreary place, etc— and Fossey was a woman with virtually no qualifications who found a way to work with the gorillas, and eventually gave up everything in order to study and protect them. I thought, the least I can do is to find a job that performs some service to someone, and to pursue in some way what I would like to be doing with my life."
Thom McGregor on
Star Wars
: "My school friends and I would take the bus to the Chinese Theater all through summer to watch it over and over again. My first cult."
And just to illustrate the breadth of demographic of this little survey, how about this trio of films cited:
Heart and Minds, The Passion of the Christ
and the original
Planet of the Apes
?
15) YOUR FATHER'S FAVORITE MOVIE
My favorite response out of all those submitted came from the always entertaining, as well as Mysterious, Adrian Betamax: "Whatever teen werewolf movie is playing on TBS that night."
16) YOUR MOTHER'S FAVORITE MOVIE
PSaga's response is my favorite of all those submitted under this number: "An ugly can of worms containing lots of sappy world War II dramas and smarmy swashbucklers."
17) THE MOVIES' MOST HANDSOME LEADING MAN OR CHARACTER ACTOR, AND THE ROLE WHICH MOST PERFECTLY FEATURED HIM
Cary Grant gets two mentions in
Notorious
, and another two for
North by Northwest
. Otherwise, it's a sexy dogpile made up of the likes of Clark Gable (
Gone With the Wind
), Laurence Olivier (
Rebecca
), Montgomer Clift (
Red River
), Ewan McGregor (
Big Fish
), Gregory Peck (
Spellbound
), Chow Yun-Fat (
God of Gamblers 2: Gamblers Return
), Errol Flynn (
The Adventures of Robin Hood
), Brad Pitt (or is that Robert Redford, in
A River Runs Through It
) and, perhaps most satisfying of all, Jack Elam in
Once Upon a Time in the West
.
18) THE MOVIES' MOST BEAUTIFUL LEADING LADY OR CHARACTER ACTRESS, AND THE ROLE WHICH MOST PERFECTLY FEATURED HER
Two women get double mentions in this category:
Claudia Cardinale in Once Upon a Time in the West
and Rita Hayworth in
Gilda
.
Otherwise, it's a much sexier dogpile here featuring Ava Gardner (
The Barefoot Contessa
), Elizabeth Taylor (
Cat on a Hot Tin Roof
), Julia Roberts (
Pretty Woman
), Vivien Leigh (
Gone With the Wind
), Juliette Binoche (
Blue
), Nicole Kidman (
Cold Mountain
), Audrey Hepburn (
My Fair Lady
) and Sylvia Bataille (
A Day in the Country
).
Does anybody have any snappy theories as to why the majority of picks from both the male and female side were "classic" movie stars rather than contemporary actors and actresses? Did they just make 'em more beautiful back then?
20/21) YOUR FAVORITE ACTOR WHO ALMOST NOBODY KNOWS ABOUT
Conveniently linked to IMDb are the following names you hopefully will get to know a little bit better upon your survey colleagues' recommendations—ask for them by name:
Brooke Adams
China Chow
Keith David
Viola Davis
Luis Guzman
Jessica Harper
Regina King
Angela Lansbury
, about whom Alison correctly observes, "Everyone knows about her, but few people know how good she is."
Bruce Lundy
Melanie Lynskey
Gabriel Macht
Sandra Oh
Timothy Olyphant
Michael Parks
Bill Paterson
James Remar
David Strathairn
Shawnee Smith
Pruitt Taylor Vince
David Wenham
Margaret Whitton
Evan Rachel Wood
22) THE MOVIE YOU LOVE THAT EVERYONE ELSE SEEMS TO HATE
There's much hate out there for
The Sound of Music
, but that didn't daunt Sharon…
Machine Gun McCain would like to stand up for
Harold and Kumar Go to White Castle
…
Murray tries to get in good with government by recommending, against all opinions otherwise,
Kindergarten Cop
…
Blaaagh sees something in
Gus van Sant's Psycho
that escaped lots of people…
The
White Nights
of Mssrs. Hackford, Barishnykov and Hines are blissful cover for Thom McGregor…
Dennis is alone in high-fiving Robert Altman's
Popeye
…
At the risk of associating herself much to closely with Kevin Spacey, PSaga admits a weakness for
Pay It Forward
…
Loxjet: "Good question, as I rely almost completely on other people's opinions... Okay, the movie version of
Hair
… If nothing else, one gets a peek at Beverly D'Angelo's tummaters."
Twosctrjns is enamored of Adam Sandler as
The Waterboy
…
and Alison finds
CQ
charming, whereas many others, including Machine Gun McCain, um, didn't…
23) THE MOVIE YOU HATE THAT EVERYONE ELSE SEEMS TO LOVE
Now to the juicy stuff:
Machine Gun McCain just doesn't get all the huzzahs for the 2004 remake of
Dawn of the Dead
…
If Sharon hears one more word about how great
Eternal Sunshine of the Spotless Mind
is… well, you've been warned…
Jonas and Blaaagh would like to go medieval on
Pulp Fiction
's ass…
This is Spinal Tap
sits most notoriously atop Murray's cinematic pile of burning tires…
Thom McGregor wishes nothing but harm upon
The Wizard of Oz
…
Alison thinks the floating plastic bag, and the whole of
American Beauty
, is just garbage…
Attention, Machine Gun: Dennis doesn't get the love for George Romero's original
Dawn of the Dead
, and just what the hell it is that's supposed to be so good about
The Shawshank Redemption
escapes him too, Sharon…
PSaga would like everyone who enjoyed
Rushmore, Kill Bill
(both volumes) and
Magnolia
that you're all wrong, wrong, wrong…
and Loxjet again (You ever think of getting your own blog, LJ?): "This one'll be easy:
Forrest Gump
is about as intellectually offensive a movie as has ever been made. Yet it was an enormous triumph, not just as a movie but as a piece of culture. I think nothing defines the stupidity of Americans as succinctly as the overwhelming success of this movie."
24/25) YOUR MOST MEMORABLE/UNPLEASANT MOMENT RELATED TO THE MOVIES
Virgil Hilts (Memorable): "After seeing
The Last Detail
, asking my father if that's what the navy was like."
Virgil Hilts (Unpleasant): "My father's silence as my mother, brother and I waited for his answer."
Blaagh (Memorable): "Sitting in a Westwood movie theatre (the Regal?) on opening night of
Blue Velvet
, with Lynch himself (or someone who looked just like him) across the aisle in a tux, shaken and stunned as the lights came up. We had been given little comment cards and pencils, and Pattie and I looked at each other over the first question: 'What is your overall rating for this movie? Excellent,Good, Fair, Poor' We both shrugged and simultaneously said, 'Excellent?' and checked that box."
Thom McGregor (Memorable): "Standing behind Alfred Hitchcock as he filmed his last movie
Family Plot
down the street from my parents' house (on Bates Avenue, of course) and, despite the fact that I was a child, his security guard made me move. 'Mr. Hitchcock doesn't want anyone standing behind him,' my sister and I were told."
Thom McGregor (Unpleasant): "At the New Beverly Cinema, watching some old movie, and suddenly feeling poked from behind through the opening at the base of my chair. Poke. Poke. I kept turning around. Five minutes later, a stream of unidentified liquid flowed down the floor past me toward the front of the theater. I changed seats immediately."
Dennis (Unpleasant): "Tricking my dad into taking me to see
Deliverance
when I was 13 years old, then realizing Mom wanted to come along and that I'd have to sit between them for the entire movie."
PSaga (Memorable): "Standing with the paparazzi (the Italian paparazzi!) and watching Woody Allen arrive with Soon-Yi Previn to the world premiere of
Everybody Says I Love You
in Venice and then getting to sit and watch the film in the grandest cinema I'd ever seen. (Ehm. Unfortunately, it didn't turn out to be the grandest of WA's films.)"
The Mysterious Adrian Betamax (Unpleasant): "When the American Cinematheque at the Egyptian omitted a reel (20 minutes) of a film and then played it at the end afterwards."
26) THE MOST REVOLTING EATING SCENE IN A MOVIE
Several of you felt compelled to remind us of Mr. Creosote's spectacular meal, and the evacuation of same, from
Monty Python's The Meaning of Life
...
But others found plenty more to be disgusted by…
Virgil Hilts likes Robert Morley being fed his poodles in
Theater of Blood
…
Murray and Twosctrjns like Bluto's self-applied acne treatment in
National Lampoon's Animal House
…
Thom McGregor and Dennis share a distaste for Sean Connery shlurping—smack, smeck—and shwallowing his shupper in
The Hunt for Red October
…
Incredibly, only PSaga pointed out Divine's dog-doo dinner in
Pink Flamingos
(Shows you where her mind's at, huh? The
gutter
…)
The M. Adrian Betamax thinks someone downing a bowl of live ants in Jet Li's
My Father is a Hero
is less than appetitizing…
And again, Alison demurs: "I'd rather not think about these things…"
28) FAVORITE SPORTS MOVIE
Once again, some interesting responses that bring up some unexpected, and in one case nearly forgotten, titles:
Hoosiers, Grand Prix, Hard Times
for Virgil Hilts, and he makes special mention of the nearly forgotten (there it is!)
Number One
—"When Chuck Heston dies on the field at the end… that's special for lots of reasons."
Alison goes Bollywood for the cricket match in
Lagaan
…
The Longest Yard
takes a hit for Loxjet, Twosctrjns and Machine Gun McCain…
Hockey gets props in a couple of movies:
Miracle
(Jonas, Twosctrjns) and
Mystery, Alaska
(Murray)… What, no
Slap Shot
?
Sharon finds
Field of Dreams
dreamy, and Blaaagh and Dennis make
Bull Durham
a seasonal treat, though Dennis gives the edge to
The Bad News Bears
, as does T McG…
PSaga makes sure cycling is represented by
Breaking Away
and (this is my favorite answer from this category)
The Triplets of Bellville
…
And the Mysterious Adrian Betamax continues his ways of mystery by citing John Huston's 1981 soccer/prison camp picture
Victory
, but surely only because Pele was in it…
29) FAVORITE MOVIE SEX SCENE
(I thought it was amusing that lots of people thanked me for having asked…)
Sharon liked it hot and sticky in
Body Heat
…
Bruce swoons for the woodsy outdoors in
Ryan's Daughter
…
Thom McGregor digs the comic fornicating of Jeff Goldblum and Emma Thompson in
The Tall Guy
…
Dennis prefers his eggs raw and swapped between lovers in
Tampopo
…
Don't Look Now
is PSaga's sweaty number-one choice…
A Catherine Breillat movie made it onto this list courtesy of The M.A.B.—it's
Dirty Like an Angel
…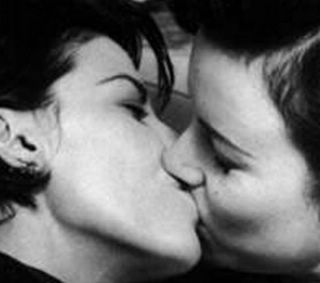 and Loxjet likes the sisters doing it for themselves:
Gina Gershon and Jennifer Tilly in Bound
, and Kim Basinger vs. Kim Basinger in
9½ Weeks
…
30) FAVORITE CAR CHASE
The chases from
The French Connection
and
Bullitt
were well represented by Virgil Hilts, Machine Gun McCain, Jonas and Blaaagh…
Thom McG and Dennis agree on
the 1969 Italian Job
...
Dennis also chimes in, along with Loxjet, for
Ronin
…
PSaga and the M.A.B. think
The Blues Brothers
is car chase-and-crash ne plus ultra, although PSaga put a mysterious (even for the M.A.B.) question mark after the title…
Twosctrjns fondly recalls the bent metal and smoking rubber of his youth in H.B. Halicki's rock-'em-sock-'em tour guide to the South Bay, the original
Gone in 60
Seconds
…
And once again, Alison racks up my favorite response in the category,
The Dead Pool
, wherein Dirty Harry and his partner give chase to a remote-controlled toy car what just happens to have a bomb strapped on it…
31) FAVORITE DEATH SCENE
Alison also gets a little queasy over my choice of the word "favorite" for this category, before listing Takeshi Kitano's exit from
Battle Royale
as her
favorite
(It's in my queue, and it just moved up a few spaces…)
Wouldn't be a category without acknowledgement of Janet Leigh's Hershey's Syrup- smeared demise in
Psycho
, and Blaaagh kindly provides it…
Loxjet likes Tony Montana on top of the world in Brian De Palma's
Scarface
…
Dennis also tips his Dodger cap to De Palma by including
Piper Laurie
's orgasmic crucifiixion by kitchen implements in
Carrie
...
Virgil Hilts salutes Robert Duvall's poignant death in Walter Hill's
Geronimo
, which is very similar in tone to Thom McG's choice: Slim Pickens sitting in the creek waiting to die in Sam Peckinpah's
Pat Garrett and Billy the Kid
…
and Blaaagh, Virgil and Dennis team up to acknowledge the slow, agonizing death scene enacted by Richard Jaeckel in
Sometimes a Great Notion
…
32) FAVORITE MOVIE GROSS-OUT
Few opted to stoop to this level, but those who did found unity in their love for
jackass: the movie
(Dennis, Blaaagh, Twosctrjns),
John Hurt's indigestion problem in
Alien
(Thom McG), Regan's bad behavior in
The Exorcist
(Loxjet) and Lionel's upended lawnmower treatment in
Dead Alive
(or
BrainDead
, or, if you saw it in
Italy
,
Splatters: Gli Schizacervelli
—thanks, PSaga!). The M.A.B., God bless him, skirted the line by citing
Salo: The 120 Days of Sodom
…
33) FAVORITE MOVIE RATING
As expected, "R" was very big here, as was "PG-13." But Blaaagh reached back to Jack Valenti's awe-inspiring "M" (Suggested for Mature Audiences), and Dennis wanted to make sure that "M"'s inexplicable cousin, "GP," got some attention as well. However, PSaga likes the fact that a David Lynch movie got a "G" rating (that'd be
Lost Highway
, right?), and the M.A.B., never at a loss, loves "Passed by the British Board of Film Censors." But my favorite answers come from Twosctrjns ("Huh?") and Alison ("What, like 'R'?"), two responses that really get to the heart of this pointless question…
34)YOUR FAVORITE MOVIE THEATER
For exotic locales, how about the Lumiere in Bologna, Italy (PSaga), the Museum of Fine Arts in Boston (The M.A.B.) and the Casino on Catalina Island (Twosctrjns)?
In the Guess You Had to Be There department, notch two for the Alger Theater in Lakeview, Oregon (Dennis and Murray)… In fact, we'll also put PSaga's pick of the Cinema Center in Fort Wayne, Indiana, Dennis' pick of the Bijou in Eugene, Oregon,
and Blaaagh's pick of
the Paramount in Portland, Oregon
(pictured here in 1938), in this subcategory too…
In the Feels Like I Have Been There department, how about Loxjet's nostalgia fo the Sky-Hi Drive-in in Helena, Montana, a frequent haunt where he actually watched movies once or twice…
In the Gone But Not Forgotten department, much love from PSaga for
the UC Theater in Berkeley
…
And Los Angeles favorites include the
Rialto
(Virgil Hilts),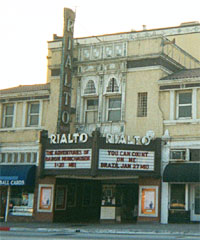 the Pasadena Playhouse (Thom McG), the Arclight (Thom McG), the Nuart (PSaga), Grauman's, then Mann's, and now again Grauman's Chinese (Sharon),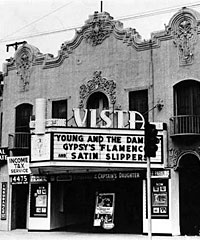 and the
Vista
(PSaga, Dennis, Alison)…
35) FAVORITE MOVIE SNACK
Not much room for controversy here…
Popcorn!
Gummi Bears!
Red Vines!
Milk Duds!
Miller Lite!
Boy, I really know how to push those buttons, don't I?
36) FAVORITE MOVIE SPEECH
Virgil Hilts:
"Harry Lime on black marketeering in The Third Man
, John Qualen squatting in the dust in
The Grapes of Wrath
…"
Sharon: Michael Douglas at the end of
The American President
, and Alec Baldwin's "God" speech in
Malice
(surprised nobody mentioned Baldwin's steak knives speech in
Glengarry Glen Ross
...)
Murray: George C. Scott addressing the troops at the beginning of
Patton
…
Blaagh: Uncle Charlie's "Women keep busy out here… not like in the cities…" from
Shadow of a Doubt
…
Thom McG: Bill Murray's "It just doesn't matter!" from
Meatballs
…
Dennis: Otter's "We're not gonna stand here and listen to you badmouth the United States of America! Gentlemen!" from
National Lampoon's Animal House
…
PSaga: The POTUS to Alan Arkin's drunken and disheveled superhero in
The Return
of Captain Invincible
(can you hum a few bars, PSaga?)…
Loxjet: "Because it's so bad it makes me cringe, the bit in
Rocky III
on the beach, where Rocky confesses to Adrian that he don't believe in himself no more…"
Alison: Dennis Hopper in
True Romance
…
Twosctrjns: "Be the Ball" from
Caddyshack
…
37) FAVORITE MOVIE ABOUT MOVIES
Cinema Paradiso
(Virgil Hilts)
The Big Knife
(Machine Gun McCain)
Bowfinger
(Sharon—good one!)
Sunset Boulevard
(Blaaagh, Dennis)
Ed Wood
(Loxjet)
Singin' in the Rain
(Thom McG, Alison)
The Player
(PSaga… again with that question mark)
8½
(The Mysterious Adrian Betamax)
38) FAVORITE HAMMER HORROR MOVIE
(Again, among those who stooped to conquer…)
Horror of Dracula
(Machine Gun McCain)
Brides of Dracula
(Blaaagh)
Frankenstein Must be Destroyed
(Dennis)
The Hound of the Baskervilles
(PSaga)
One Million Years B.C.
(Alison)
"I've only seen
The Quatermass Experiment
, and it sucked!" (The Mysterious Adrian Betamax)
39) FAVORITE KURT RUSSELL DISNEY MOVIE
Much love for
The Computer Wore Tennis Shoes
from Machine Gun McCain, Murray, Dennis and Sharon,
whereas Blaaagh and Thom McG dig
Now You See Him, Now You Don't
, Twosctrjns gets clever and cites
Miracle
, and Alison speaks up for "the one with the monkey"-- That'd be
The Barefoot Executive
, which Dennis also has a soft spot for.
40) FAVORITE DEAN JONES DISNEY MOVIE
The Love Bug
was the easy favorite, getting raised hands from Twosctrjns, Machine Gun McCain, the M.A.B., Dennis, Loxjet and Thom McG ("Though he's brimming over with hostility in every Disney movie he's ever been in, not that I blame him…") But no one's exactly in lockstep here— Blaaagh likes
Blackbeard's Ghost
, Dennis digs
That Darn Cat!
, Sharon speaks kindly of
The Shaggy D.A.
, Alison likes "the one with the monkeys" (
Monkeys, Go Home
), and Murray refuses to discriminate—"I like 'em all!" (Even
Snowball Express
?)
Thanks, everybody! Please put your pencils away and your hands on your desktops and sit quietly until the bell rings… And put away that pizza, Mr. Spicoli!